The Radio Broadcast at Ward-Belmont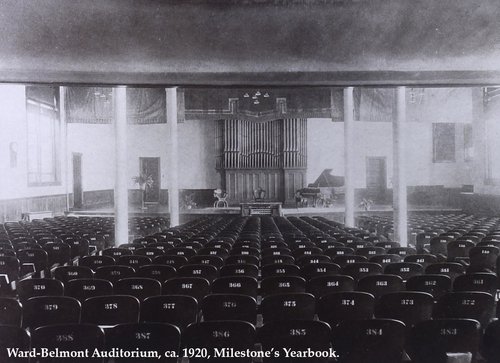 Many of the pieces that Philip Gordon performed during Ward-Belmont's first radio broadcast were recorded using the Ampico Reproducing Player Piano in the Chickering model. As the instrumentalist played the piece live, the piano would mark their movements on a roll of paper that could be played at a later date from the roll of paper alone. The account of the program in The Hyphen, Ward-Belmont's campus newspaper, states that some of the tracks were played by Gordon live and some by the Ampico from his earlier recordings. "The audience," the article noted "could not tell when the changes were made in the playing." Specific tracks that were recorded by the Ampico from Gordon's performance were also to be enjoyed again at a later date.
Though the original recordings of the radio broadcast or any of Gordon's Ampico performances from this period do not exist, the program, as printed in The Hyphen of what he performed that night is below. Each piece of music is linked to a modern performance of that piece. Please feel free to recreate Ward-Belmont's first radio broadcast by clicking the links.


The concert later that evening consisted of Mr. Philip Gordon performing the following pieces:
I. Rondo Capriccioso….Felix Mendelssohn
Country Dance….Beethoven-Seiss
(The "Country Dance" will be repeated by the Ampico, from Mr. Gordon's Recording)
Nocturne F. Sharp….Chopin
Marche Militare….Schubert-Tausig
II. Prelude C Sharp Minor…Rachmaninoff (The "Prelude" will be repeated by the Ampico from the composer's recording)
III. Études D. Flat…Liszt
Gavotte….Gluck-Brahams
Andante Cantabile….Tachaikowsky* (parts of the "Andante Cantabile" will be played by the Ampico and parts by Mr. Gordon from his recording).
"By the Beautiful Blue Danube"…..Johnann Strauss
Concert Arabesque…Schultz-Elner
*The paper misprinted the name of Tchaikovsky


To read the account of this first broadcast in Ward-Belmont's Hyphen, please click here.

<iframe src="https://archive.org/embed/WardBH_1922_Vol_11-12" width="560" height="384" frameborder="0" webkitallowfullscreen="true" mozallowfullscreen="true" allowfullscreen></iframe>