Jack DeWitt

Jack DeWitt was born on February 20, 1906. He was the grandson of William Ward, who founded Ward Seminary for Young Ladies in 1865. Ward Seminary would eventually merge with Belmont College to create Ward-Belmont in 1913. From a young age, DeWitt showed an aptitude for electronics. He fixed a doorbell for a neighbor at seven and was paid $1 for it. By twelve, he invented his first crystal receiver, resourcefully coiling the wires around a rolling pin. At sixteen, when he set up Ward-Belmont's first radio station, WDAA, DeWitt was about as expert as one could be on radio technology for the time period.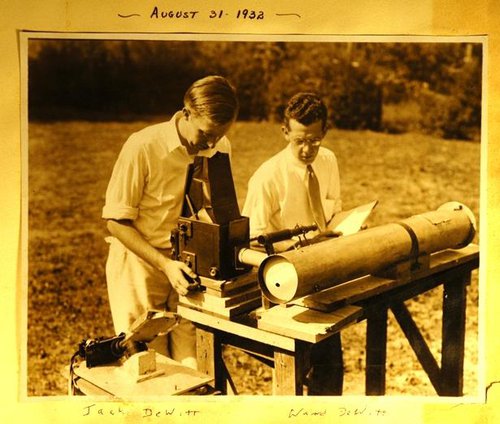 Left: Jack and Ward DeWitt, August 31, 1932, Ward DeWitt Scrapbook, Courtesy of The Nashville Public Library.

Jack DeWitt and his brother Ward worked together to create a telescope. Each brother polished a mirror to perfection before combining them to first create a six-inch telescope to observe the partial solar eclipse in the summer of 1932. Eventually, their work together would be the foundation of the Dyer Observatory at Vanderbilt.





For Ward-Belmont's inaugural broadcast, DeWitt was essential in its execution and success. He was well known on campus and had even demonstrated his wireless telegraph to the Agora Club a few years earlier. For that first radio broadcast, in 1922, DeWitt built the antennae, set up all the necessary components, and oversaw the broadcast personally on the stage next to Dr. Crosland.
This first foray into radio broadcasting would not be DeWitt's last. Edwin Wilson Craig of National Life and Accident Insurance company consulted DeWitt as he set up WSM's (We Shield Millions) 1,000-watt transmitter just south of Nashville. Jack DeWitt was present for WSM's first broadcast, overseeing the master controls in the control room just off the studio. WSM would begin to broadcast The Grand Ole' Opry later that year. He even gave Craig the cue to begin speaking for their first broadcast in 1925. At the time, DeWitt was just 19 years old.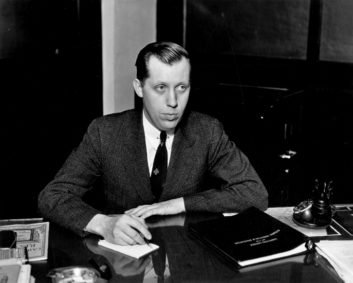 Right: Jack DeWitt, 1925, Courtesy of the Grand Ole Opry Archives.



Jack DeWitt would go on to have a spectacular career in radio and eventually in television. He was the engineer behind WSM's innovative design for a 50,000-watt antenna in Brentwood, TN. He would later become president of WSM, even helping to launch Nashville's first television station in 1950. During World War II, he served as head of Evans Signal Laboratory, overseeing 73 officers and almost 1500 civilians who were working on secret war technology, RADAR. He made international fame in 1946 by being the first person to bounce a laser off the moon in the operation named Project Diana. He would never forget that first spark of excitement that came with creating his own radio equipment, which he stated later in life was his "first love." Without Jack DeWitt, Belmont's radio experiment would not have happened.