The Development of Radio: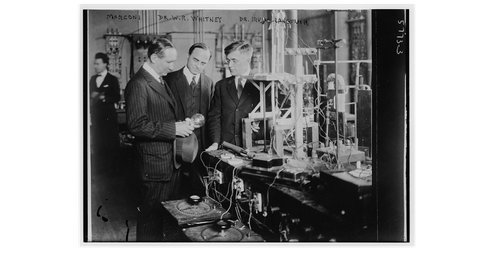 In 1922, the year of Ward-Belmont's first broadcast, the radio was still a relatively new invention with a rich history of technological and scientific innovation already behind it. Tinkering with radio waves had begun in the 19th century, the first patent for radio receiving and transmitting devices was filed by Guglielmo Marconi, an Italian, in 1897. His invention, which allowed intelligible signals to travel across space, had enormous implications, including the development of wireless telegraphy. Transatlantic communication, especially communication with naval ships in the form of dots and dashes of Morse Code, was seen as an important development and was seized upon by governments. While Macaroni's invention was meant to be used in telegraphy, many others were hard at work taking his innovations and turning them into the field of radiotelephony - or the transmission of sound, including the human voice.
Above: Macaroni, Dr. W.R. Whitney, and Dr. Irving Langmuir, ca. 1922, Courtesy of The Library of Congress.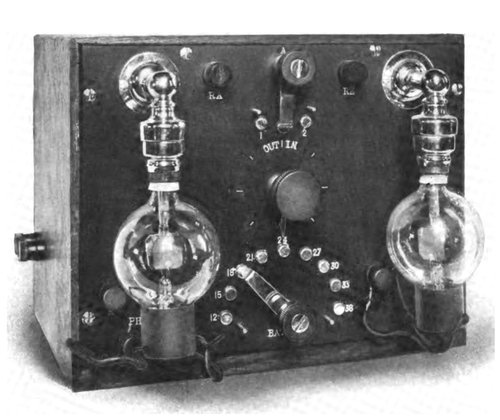 American inventors capitalized upon Macaroni's discovery and the first real radio broadcast was conducted in 1906 by Reginald Aubrey Fessenden. Another major advancement was the invention of Dr. Lee H. De Forest's Audion, which was really the first vacuum tube - an invention that would be the basis for all electronics in the 20th century. Advancements in radio were propelled by the War Department's need for communication with overseas assets during World War I. After the war, an increased isolationist feeling predominated, which prompted the purchasing of Macoroni's company and the creation of the Radio Corporation of America in 1919.
After the war, there was an explosion of amateur radio enthusiasts in America who created their own combination of receivers and transmitters to communicate and listen to each other's intermittent amateur broadcasts. The first radio sets for general public use were sold in 1920 and only in a few areas. Sets would begin to be sold in earnest over the next few years. In 1922, when Jack DeWitt conducted Ward-Belmont's first broadcast, he was really on the cutting edge of a huge wave of innovation that would shortly follow.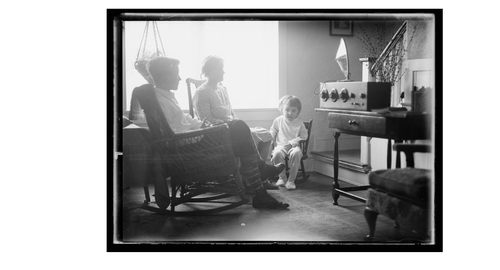 Above: De Forest's Audio Tube in the back of an early radio prototype, Proceedings of the Radio Institute of Engineers, 1914.

Left: A Family Listening to a Radio Program, ca. 1928, Courtesy of The Library of Congress.


As radio sets began to be sold to the general public, radio stations popped up across the nation. There were no regulations on radio broadcasts until the Federal Radio Commission was established in 1927. Therefore, a listener could be enjoying a program and have it cut into by a more powerful station. Early radio was also not like tuning into a station today. In those early days, many stations observed "quiet nights" that would allow listeners to pick up on signals that were farther away or to share airtime with stations in their city. Radio stations often borrowed talent from each other. They also did not have 24-hour broadcast programming. For example, WSM in Nashville broadcast just 10 hours a week in 1925, that number was up to 50 hours per week by 1928.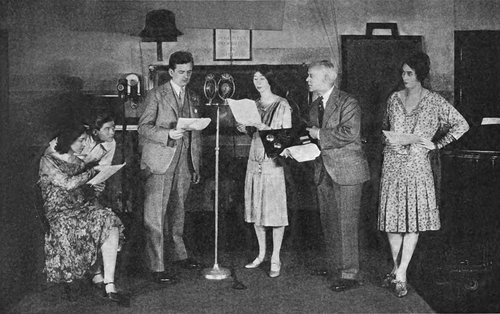 While the Victrola was often played into microphones, many stations featured nightly shows that consisted of theatrical-like productions. These were more like live music shows that featured the stars in the station's studio along with announcers and sponsors. While very early, Ward-Belmont's station followed this model. Its first broadcast began with a live musical show that featured pianist Philip Gordon. After this initial night, the school would often broadcast when interesting performances or lecturers came to the school. As the 1920s went on, radio drastically changed as thousands of consumers bought radios for home use, regulations were developed, and the public's perception of what radio was and should be changed. Ward-Belmont helped to shape the radio broadcast experience and is proudly part of radio's origin story.