"This is Ward-Belmont, Nashville. W-A-R-D--B-E-L-M-O-N-T. We have today installed a radio sending station and will tonight broadcast the concert by Mr. Philip Gordon, the distinguished American pianist." Dr. Clayton E. Crosland, Associate VP, Ward-Belmont, April 18, 1922.
With this speech, Dr. Crosland of Ward-Belmont, became the first person to broadcast on a radio station in Nashville, Tennessee. This feat of electronic engineering was accomplished only with the aid of John "Jack" DeWitt Jr., a 16-year-old high school student, boy scout, and radio enthusiast, who first constructed a radio antenna in his Belmont Heights backyard. Crosland realized the enormous potential of radio to advertise the college and recruited DeWitt. DeWitt set up Ward-Belmont's station and was instrumental in this first broadcast on the night of April 18, 1922.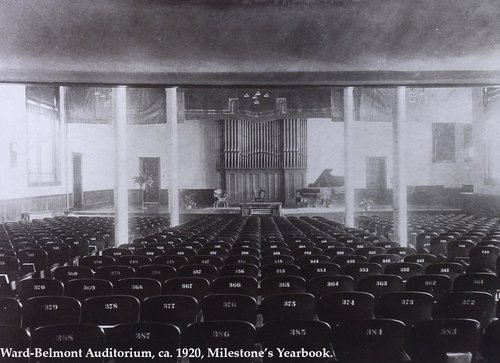 Later that evening Philip Gordon played a program of classical music. While on the air, Crosland invited listeners to call in to the campus to let Ward-Belmont know how the clarity of the program was and from how far away it could be heard. They received four calls while on the air, letting the campus know that the broadcast was heard as far away as 200 miles. At the conclusion of Gordon's performance, the live audience was dismissed and a radio program that consisted of several Ward-Belmont students and faculty performances continued until 9 o'clock. Miss Katherine Kirkham sang two songs accompanied by Mr. Lawrence Goodman, Miss Mildred King played a piano solo, and Miss Anna May MacLain played an organ solo.
WDAA, as the station came to be known, would broadcast intermittently for the next six months. No formal programing was established, but when something of note was happening on campus, it would be broadcast for any interested listeners. Some faculty members, especially the school's voice teacher, Gaetano De Luca, also enjoyed playing Caruso records over the air from his Victrola from time to time. Though short lived, Belmont's experiment with radio broadcasting will always have the distinguished place of being the first in the city's history. Many more stations would follow in Ward-Belmont's footsteps, including WSM's famous program, The Grand Ole Opry, which has been broadcast continuously since November 28, 1925. Everything that came after has helped cement Nashville as America's Music City. We invite you to explore WDAA, Nashville's first radio station, through the links below.